LinkedIn is a professional platform designed to help establish business relationships. LinkedIn is a great platform to grow your business in a very effective way. It can be used to build brand awareness and relationships with consumer.
From making connections to generating leads and boosting brand awareness you can do many things with LinkedIn to make your digital marketing best. By posting engaging content LinkedIn can market potential customers. It is particularly valued by the firms that operate in the B2B sector.
LinkedIn is the social network choice of senior-level management and decision-makers. The executive members rely on LinkedIn more than that of Facebook, Twitter, Instagram or Youtube. They show interest in meaningful posts shared on LinkedIn.
So, if you want to grab the attention of executive members, then your focus should be on LinkedIn Marketing Strategy.
LinkedIn has more than 610 million members.
303 million of them are active members.
40% of them visit LinkedIn daily for businesses.
90 million of them are executive members and 63 million are decision makers.
LinkedIn is responsible for 80% of B2B leads for social media. This is why most of the industries should have marketing strategy for LinkedIn
This image can tell you about the importance of LinkedIn Marketing. You can see how LinkedIn is crucial for the success of your business. All you need is to develop an effective strategy to target your desired audience.
Market on LinkedIn
Now let's move towards the next step. That is how to market on LinkedIn. Check out these 16 different LinkedIn marketing hacks to help you grow your business effectively.
1. Define your marketing goals
LinkedIn marketing is same like other social networks marketing. All you need to set your goals accordingly. Define your goals and start working on them. Think about the background of your campaign; make it clear ask yourself why do you want this specific LinkedIn marketing campaign? What are your expectations about the results of this campaign?
Your goals should be – Specific, Measureable, Achievable, Realistic and Timely. Make sure that you are using accurate tools to see the success of your campaign.
2. Optimize profile for maximum exposure
One of the basic and most important steps in your strategy will be optimizing your LinkedIn profile for maximum exposure to your audience.
This seems very basic but it's also a crucial one because you need some advance marketing tactics to make it visible. It is very important for you to make such profile improvements that will increase your chances of getting noticed.
Start with setting up with high-quality profile picture and a cover photo that is relevant to your brand. It should be your company's logo within the optimized size image for LinkedIn. For example the standard size for LinkedIn profile picture is 400x400px. Cover photo should be very simple and elegant that should give a brand feel.
Keep in mind that relevant and authentic profile picture gives you 21 times more profile views.
Here are some examples of LinkedIn pages
You can see that, Mailchimp uses a yellow color scheme. That is not fancy at all and giving it a premium looks.
Meanwhile, Zapier gives a very simple yet effective message through their cover photo that they are hiring and need to build their team.
Other effective ways to optimize your profile is to add your current position, which can give you more connection request.
You can move from basic level to next level by adding some important details. Keep it in mind that complete pages get 30% more views. So, fill your company details. Choosing a good URL for your brand is very important. Try to make it same as your username. A detail on your page provides visitors with information about your brand and increase ranking in Google and LinkedIn search results.
Describe your company by telling people about your mission, vision and values and also tell about your products and services in one to two paragraphs. Try to make your description SEO friendly by putting keywords in it.
Develop your own hashtags and work around them. Add up to three or four hashtags to make your profile searchable. Select hashtags that best suits your business.
Add a custom button to your profile to encourage action. Options should include contact us, visit website, register, learn more and sign up. Along with this make sure to add the URL so people land on correct page.
3. Target the right audience
One of the more imperative LinkedIn marketing tools is its organic targeting option for the posts. Page admin can target post dependent on their follower's profile data, including industry jobs, geography, organization size and language preference.
Try to set up your LinkedIn marketing strategy with LinkedIn ads. LinkedIn ads are very effective. They allow brands to target and reach members outside their established following. Personalization options even let you address LinkedIn members by name, which makes a difference. Sponsored InMail messages have a 52% open rate on average.
4. Promote your page
If you want people to search for you than boosting is the best idea to reach out to people other than using keywords to appear in LinkedIn searches. Or else, you might lose followers and get one to two visitors per month.
Keep on promoting your page whenever you get the opportunity. The more your LinkedIn page is visible, the more you will be successful. A very simple way to promote your page is to ask people of your company to follow you. Start by asking your managers and employees to follow you as soon as possible and ask them to promote your page too.
When someone will follow your page, they will see your updates and posts in their feed, keeping your image fresh in their mind.
Adding link to LinkedIn page in your email signature, newsletter, marketing materials and on other social media platforms can also be an effective way to promote your page.
But!! Do not forget your existing customers to visit and follow your revamped LinkedIn page.
5. Content for reach and impact
A very important thing to do is to publish a sort of content that adds value to the lives of your followers. LinkedIn marketing is all about adding values to live through impactful content. In fact B2B marketers make up 88% of the top performers in content marketing.
Try to create and publish content that serves a purpose. By purpose means content to educate them, inform, guide, teach, inspire or to entertain them. People on LinkedIn like such content and they usually search this type of content. In this way you can improve the chance of getting your followers to engage with your posts more and to build a connection with your company. And remember a tip, when people engage with your posts, they will see your future posts in their feed more often. Remembering you even more and increasing your reach.
Let me share an example: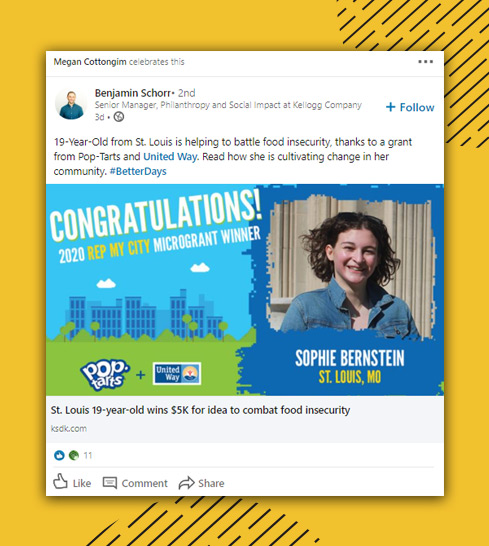 Keep in mind that it's not compulsory for you to share a content that is only your original content. In fact share some informative content that is relevant to your company even if it's from a third party.
One tip for you is that if in case you are running low on creating content and ideas. You can check Content Suggestion under the content tab of your LinkedIn Page. You can filter your
target audience, company, location and a lot other things for trending content and articles.
6. Posting at the right time
After creating a creative content the next important stuff is to post that content at the right time to give your post a perfect reach. Post on regular basis to build an audience on LinkedIn. It has been seen that the companies that post once a month gain followers 6 times more than those who don't post much.
Companies those post on weekly basis gain 2 times more and those who post on regular basis, like post once a day even gain more engagement.
Posting at the best time works better than regardless of how often you post. Just track your right time of posting and post your content according to that schedule. Research through Hootsuite predicts that the best timings to post on LinkedIn are 12:45 p.m, 5:45 p.m, 7:45 a.m and 10:45 a.m. EST. Coming towards days, best days for B2C brands are Monday and Wednesday and for B2B brands is Wednesday.
All of the audiences are different, so it's best to use LinkedIn Hootsuite analytics to verify what time suits you the best.
Remember that scheduling your posts in advance is the best practice you will follow. So, schedule your posts in advance with Hootsuite to save your energy on daily basis and to make sure that you are posting at optimized time every single day. It's a simple drag and drop thing.
Adding one more thing for engagement through content is seeing if any of your posts looks like doing better than others and gaining reach, then go one step further by promoting it to more audience as "Sponsored content"
7. Adding images and other media in your content
Using images in social media has always been very important. A great image accompanying a post on LinkedIn, Facebook and other social networks has always been important because people respond to visuals more than a simple text. A good visual along with a catchy meaningful content will always give you more engagement than text. You can also add image to text based articles rather than sharing articles alone. In most of the cases a catchy image or video attached in an article will bring more attention and bring them to read your article.
You can now upload videos directly on LinkedIn rather than sharing Youtube videos. You can add multimedia anywhere in the article. You can add images, videos, slides, podcasts, tweets and other visuals.
8. Install LinkedIn plugin
The significance of strong content is focused on constantly on social media platforms when you are hoping to build up a firm footing. You can use two options on LinkedIn for sharing the content. Number one, you can write creative posts and share them or number second you can install a plugin on your blog page or website.
Sharing great content can help you increase your profile visits and also will help in elevating your credibility. However, it can be a dull process to share with multiple groups and platforms.
9. Go Live
Schedule a Live session on LinkedIn. This is more engaging than a simple scripted video. Live Sessions gain 24 times the engagement than other videos.
You can hold live sessions on different topics like interviews, chats, and webinars and even you can host events in live session. Going live with topics will give you more reach. This will give you an instant connection with audience by answering to questions and responding to comments.
Before going live make sure to give it a pre-hype. Promote your schedule by announcing that you are coming live mentioning your date and time. Do promote it on all social media platforms where you can target your right audience including LinkedIn.
10. Email marketing
Composing a letter and sending to each connection on LinkedIn by thanking them for being associated on Linked is highly suggested. Also you can welcome them to be a part of your email marketing.
You can message around 50 people at a time in this way and then you can go up to hundreds. This is a best practice to increase people for email marketing. Include a direct email sign up in your message or email. Give them details of what they will receive by signing up for the email list.
11. Linking employees with company page
Your employees and your colleagues play a major role in building your company. They are the best resource to grow your network on social media platforms especially on LinkedIn because it a professional platform. Companies on LinkedIn that have strong employee support program are 58% most likely to attract top talent and 20% more likely to retain them.
Your top promoters are your employees. You can take advantage of their network and grow your reach by including them as your followers. Likewise, urge them to include their position at your organization to their profiles.
Ask your employees to create and complete their profiles on LinkedIn. Proper and complete profile should include appropriate photos, job history, their skills and their details that how they are helping your company to grow.
12. Active participation in LinkedIn groups
Take advantage of LinkedIn groups and be an active member in those groups. LinkedIn groups can help you boost your network with other professionals in your field. Join groups that are relevant to your target demographic.
You can also create your own group based on your company's topic. Do comments in the posts shared by other groups, be an active member by doing conversation. This is the best way to save money and building relationship with your clients.
13. Use of LinkedIn ads
Like most of the social networks, you can boost your company's performance on LinkedIn by buying ads. LinkedIn has great targeting abilities so you can be sure that LinkedIn will deliver your ads to your preferred audience.
LinkedIn members offer detailed information about their association, skills and professional interests on the network. This infers that the platform has exceptional targeting abilities that you can use to take laser-focused strategic decisions.
Here is a list of ads that a company can buy
Sponsored content – You pay to intensify the content. That means you can share your content with large number of audience than you could do organically.
Text ads – Text ads are pay-per-clickads that appear on LinkedIn pages, for example, LinkedIn profile pages, LinkedIn home page, Group pages and search result pages.
Sponsored InMail – This is same like email marketing, but done within LinkedIn with the ecosystem of this platform. This feature allows you to send personalized messages to LinkedIn family. Messages are delivered to the members when they are active on the network, thereby increasing their chances of noticing your ads.
14. Use of Automation Tools
LinkedIn groups absolutely help you to grow your organization. However, it additionally expects you to be predictable with regards to sharing your posts. You can automate the entire process rather than manually wasting your energy and time.
There are a few tools accessible that do a better job of sharing your content to the target group. You will simply need to pick certain options and some basic details to begin utilizing it.
15. Study LinkedIn Analytics
Measuring your goals is one of the smart ways to see if you are on right track. One of the important things is that your goals are measureable. Take out time on regular basis to check your progress towards those goals.
Just don't jump into LinkedIn marketing without research. Otherwise you will be left with zero or no response even after putting all of your energy into generating posts.
LinkedIn analytics gives you in depth look at how your content is performing. In many cases, you will find the relevant data in LinkedIn Analytics for your company page. This will give you invaluable progress about the visitors to your page and how they have engaged with your content.
For Sprout Social users, the LinkedIn integration gives an even better insight into your performance analytics. Besides analyzing the growth and engagement rate of your company pages, it also provides detailed audience demographics data to improve your targeting efforts. It even lets you compare how your organic content fares against your paid promotions so you can better assess the impact of your investments.
16. LinkedIn marketing tools
LinkedIn tools are great for marketing. They make marketing easy for brands both big and small. Let's have a look on some important LinkedIn marketing tools.
1. Canva
Canva allows you to create custom images for free. It offers an amazing stock photo library with custom options. You can also use canva to create graphic pull quotes and data visualization. Or you can simply share customized hashtags as an image. Keep in mind that LinkedIn posts looks more cool and engaging with images and videos.
You can create videos and Gif with your own recordings, footage or graphic with the help on canva.
2. SlideShare
It's LinkedIn built-in professional content sharing tool. You can upload your PDF, Word, PowerPoint or Open Document file to share with your followers.
These documents or presentation can increase your engagement. LinkedIn audience craves for these types of materials.
SlideShare uploads can reach more than 75,000 monthly visitors. SlideShare can also measure analytics so you can easily see what sort of pages people click on and share. SlideShare is the best tool to leave great image on people mind. So do not forget to include call-to-action in your presentations to attract clients.
3. Open for business
In case you're an independent business person or entrepreneur then LinkedIn's free Open for business feature is a great choice for you. This feature is more or personal LinkedIn profile rather than company pages.
LinkedIn is steadily turning this feature out. If you don't see this on your profile, ask to join the waitlist.
4. Hootsuite
Posting once a day, replying to all comments and messages and then tracking analytics on daily basis is time consuming job for social media manager. But, now with Hootsuite these all tasks are much easier to manage. Hootsuite is not only best tool for LinkedIn but for all of the social media networks.
With Hootsuite you can:
Posting once a day, replying to all comments and messages and then tracking analytics on daily basis is time consuming job for social media manager. But, now with Hootsuite these all tasks are much easier to manage. Hootsuite is not only best tool for LinkedIn but for all of the social media networks.
With Hootsuite you can:
Plan content calendar
Schedule posts in advance
Respond to comments and messages efficiently
Measure your performance.
Above all, remember that LinkedIn is a professional network that allows creating a meaningful network. It's a valuable platform to build credibility. It hold potential to help grow your business by connecting with right audience and resource. So tackle it in right way to give boost to your business.