Did you know that Instagram is the second most popular social network with more than 700 million users? Instagram has become more valuable to restaurant marketing with people discovering new places to eat and deciding to go in a specific restaurant based on the restaurant's Instagram feed.
"Instagram goes hand-in-hand with word-of-mouth" says Maree Suteja, owner of Crate Café, Bali, which was designed with Instagram in mind.
A Few Important Numbers
The impact of social media on both the online and the offline is massive.
93% of consumers admit that online reviews impact their decisions.
84% of consumers trust online reviews as much as personal recommendations.
68% of consumers are willing to pay up to 15% more for the same product or service if they are assured they will have a better experience.
75% of people purchased a product because they saw it on social media.
Social media and online reviews are the social proof restaurants need in order to develop and thrive.
This is the reason why restaurants need a comprehensive Instagram marketing strategy.
If you are already posting photos, publishing interactive posts and interacting with the followers, you are on the right track. But developing a strategy is still the main thing to give your business a boost.
Every restaurant needs an interactive story. Instagram is the perfect platform to do this. Instagram lets you build a community. Instagram's engagement with brands is 10 times higher than Facebook.
There are plenty of Instagram marketing strategies for restaurants that you can use to increase your reach and attract new customers. Let me show you some surefire ways to master marketing.
1 – Hashtag Research
Using the right perfect hashtags is the best thing you can do to drive organic impression. Right hashtags will power up your posts and help your business become more visible.

Post with hashtag gets over 12.6% more engagement than the post without it. Do not neglect relevant hashtags. Smart tip is to start adding a location to help your restaurant standout. For example, #Parisfoodie #Parisfoodlover rather than only using #foodlover or #foodie.
So start searching for hashtags in the search bar and look for the hashtags that you think will give you the best results and reach, but don't go for too many hastags that your post will look so long or boring.
Also create your own restaurant hashtag and keep it in your bio. By this way your customer will know what they have to tag when they post Instagram photos at your restaurant. In this way you can create user generated content.
User generated content is a type of content that your customer post about your restaurant and you repost it in your account and it gives your marketing a BOOM!
Reason for posting User generated content is that it saves your time that you spent on creating content. It helps build community and increases engagement.
2 – Story Highlights
Do not forget to create story highlight. It's a must thing for Restaurant marketing on Instagram. It acts like a menu on your profile that users can navigate like a website. Like, when somebody lands on your profile, they will instantly check those highlights just to know about your food stuff, quality and to learn about your restaurant before going anywhere else.
Before starting with story highlights, the first step is to decide about what you want to convey about your restaurant at top of your profile. For example, Favorite customer photo, top item, weekly special items, one day deal, meet the team to attract visitors and want them to follow you.
Other than story highlights also focus on covers for those highlights. This will make your profile professional and clean one. Some of the examples are as follow!
3 – Stay on brand
Develop a brand image by creating all of your post in one specific look. Be consistent with your design and try to build and brand image. For example if you have a café and your main focus is on coffee. Try to use dark coffee colors along with white color in it and use short catchy captions about aroma or features.
The important thing is that you are consistent on your page. In this way, your followers won't forget your brand image.
4 – Influencers and food bloggers
Food bloggers!! An easiest way to market your brand is through the bloggers or influencers. If you get successful getting a food blogger with a large number of followers to post about your restaurant, you will get the benefit of brand exposure to interested foodie audience.
Food industry is the most popular industry on Instagram. There are a lot of influencers waiting for you to reach them. A lot of influencers are sharing restaurants recipes, content, pictures out there. Partnering with those bloggers and influencers is a great way for reaching new potential customers.
The next thing is how you can collaborate with the influencers is depending on your budget. Influencers with a large following will may charge for per post or story, while some others may give a shout out in return for the meal.
Here are the examples of influencers post
The simple step is to reach out to foodie accounts that have followers in 25k-50k brackets.
5 – Interact with followers
Interaction with the followers and rewarding them is the next big thing to market your brand.

Ask for customer opinion
Offer them a new dish, beverage or dessert and ask your customers to help you name it. This is how they will keep on looking at you for the results. For example create a poll in your story or give them options A or B.
Photo contest
Ask your customers to share photos of your restaurants and add your tag. Ask them to share in their stories and offer them gift cards, free meal or any cash reward.
Ask questions
Interact with the audience by asking some questions. For examples post something like "What is your favorite food? Or you may create fill in the blank posts. For example, 'The delicious #Blueberry ice-cream flavor is ____". Audience will respond to such questions and in this way you can increase your reach.
6 – Contest & Giveaways
An important marketing tactic for Instagram is to run contest. This is a great way to build your brand and engagement, but first give it a thought and plan that what is your goal, whether you want to increase followers, better engagement or to increase restaurant booking?
Remember, this contest strategy not only increases engagement with followers, but also increases your reach by making "must tag your friends" requirement for entry in competition.
To run a great contest, you will need to organize your things. You will have to decide:
Agenda
Pre hype
Unique Hashtag
Prize
Method of entry
Rules & Regulation
How you'll select the winner
Terms & Conditions
You can also create such rules, like share a photo of your food with your unique hashtag and get a chance to enter into lucky draw.
Here are examples of such contests: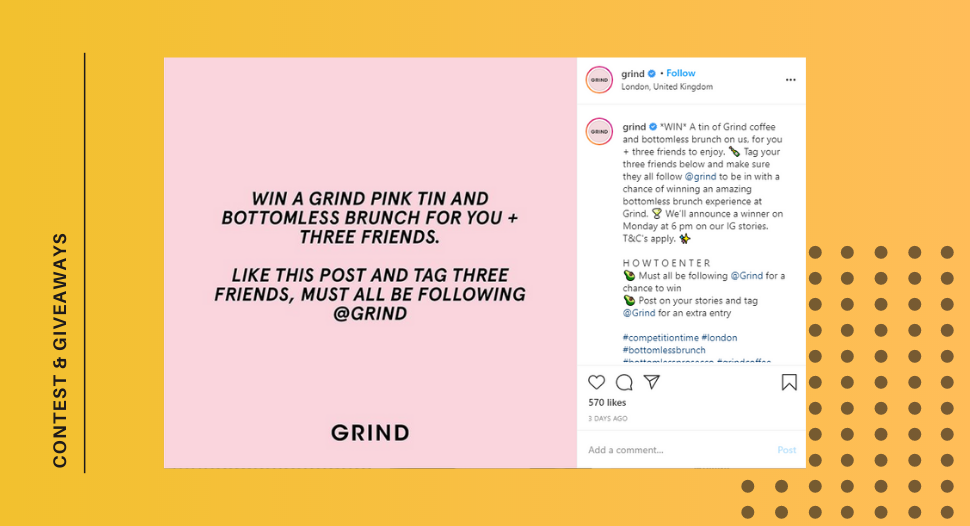 7 – Engage
ENGAGE, ENGAGE, ENGAGE!!!! Yes, we all know that people want to engage with real people. So your focus should be to make genuine interaction with your followers.
Reply to comments; ask for their feedback, Re-gram their content. Mention your loyal customers in your stories. Answer faster in DM. Get real humans reply. Interacting with loyal customers will give your restaurant a success.
8 – Instagram video
Use power of Instagram video. By making videos you will thank us later in increasing bookings of your restaurants. There are two types of videos on Instagram; Instgram Stories, Instagram Live Videos.
Share highlights of your restaurant in stories, for example, behind the scene stories, brand stories, busy hours services or stories of restaurant ambience.
With Live you can target some events at restaurants. You can give a live restaurant tour. Your followers can share their opinions.
By showing the videos you can share the real life behind your brand in a unique way.
9 – Scrumptious photos that'll make your followers hungry
Great photos are an inevitable part of restaurant Instagram marketing. Instagram is most visual social media platform. People love exploring cameras. They post pictures and rely on beautiful pictures.
Be sure to publish delicious food pictures to make your followers hungry and crave for your food. Appetizing photos will easily generate engagement. Post pictures with a great catchy caption.
10 – Optimal time
Timing is everything. So post your posts at optimal times. Especially posting content on time works for restaurant. For example if you want to post picture of breakfast, it is not optimal to post a picture of your Eggs with juices or pancakes at 8pm at night when people are getting ready for bed.
Also monitor when your post works better and make sure to know when users are active on social media so that you can spread your message accordingly.
Below is a chart showing the highest engagement times for instagram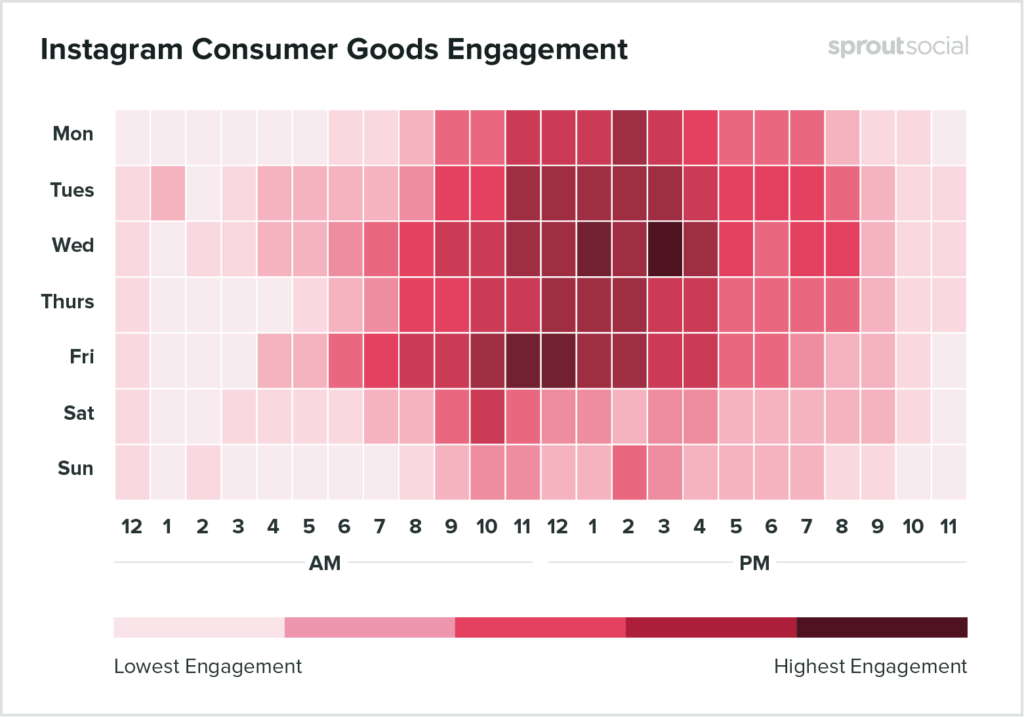 Time to wrap up now!
With Instagram platform you can do a lot to market your restaurant. As a restaurant, Instagram marketing is the best way to stay at the top of your customer's mind. Your restaurant will instantly click on your customer's mind whenever you will want to satisfy your appetite. By implementing these 10 tips you will see a rapid increase in engagement of Instagram.